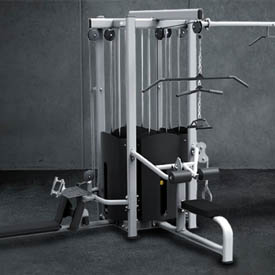 1. First we will send a service tech out to pickup your cables from your facility provided you are in the Baltimore or Washington DC area, or you can send them to us in the mail from any location in the continental 48 states to the address below:
Atlantic Fitness Products
PO Box 4764
Crofton, MD 21114-4764
2. After removal of the broken or frayed weight machine cable we will then build one in our shop which will fit your machine. (NOTE: We recommend new pulleys for new cables.)
3. Once the weight machine cable is made, we can either send it to you so you can replace and install the machine cable yourself, or we can send a technician (within our service area) to install the new weight machine cable and adjust your selectorized weight machine.
Our services extend to but are not limited to the following brands. SportsArt weight machines, Hammer Strength weight machines, Promaxima weight machines and even your old standard Global and Universal Weight equipment.